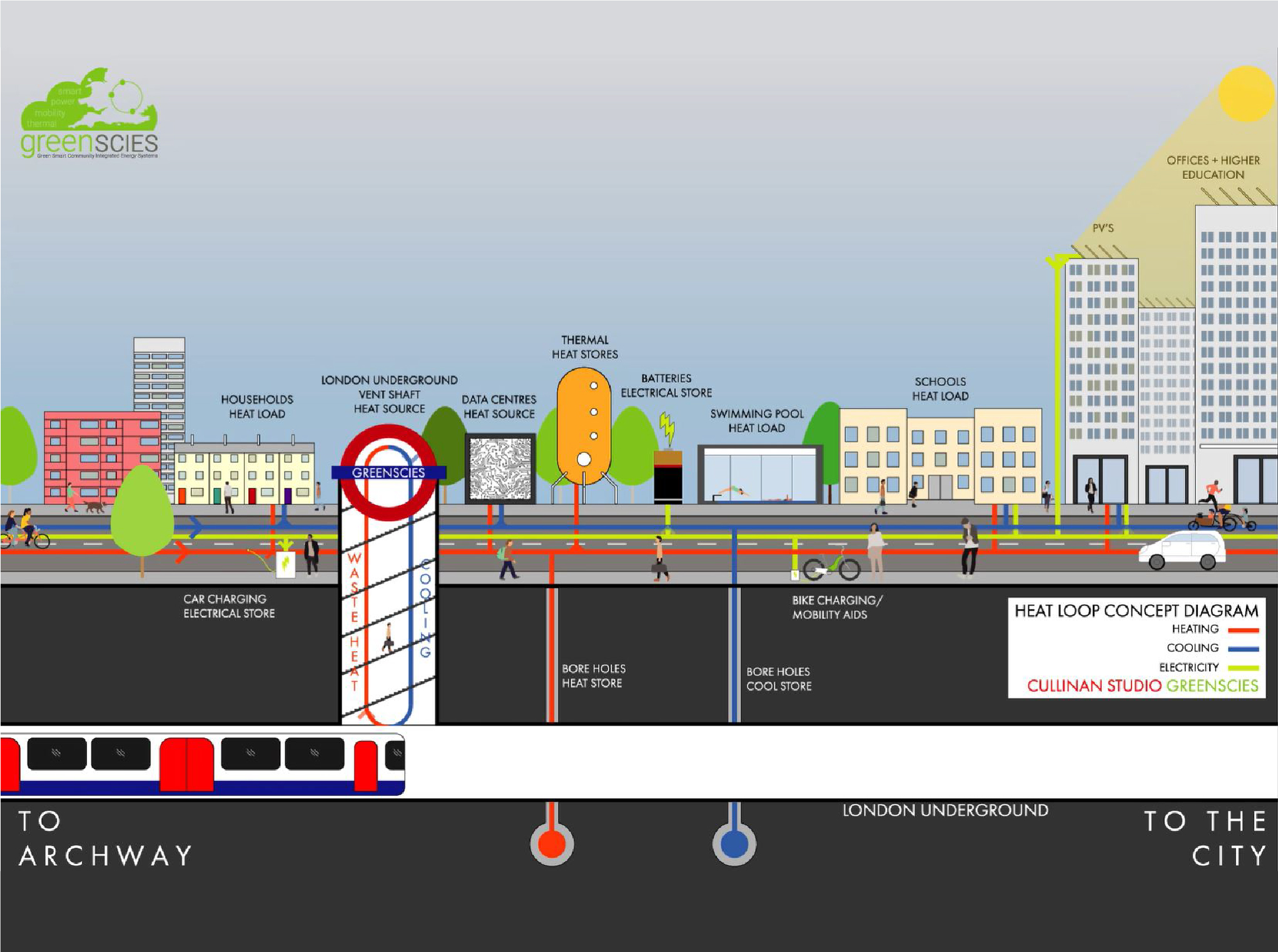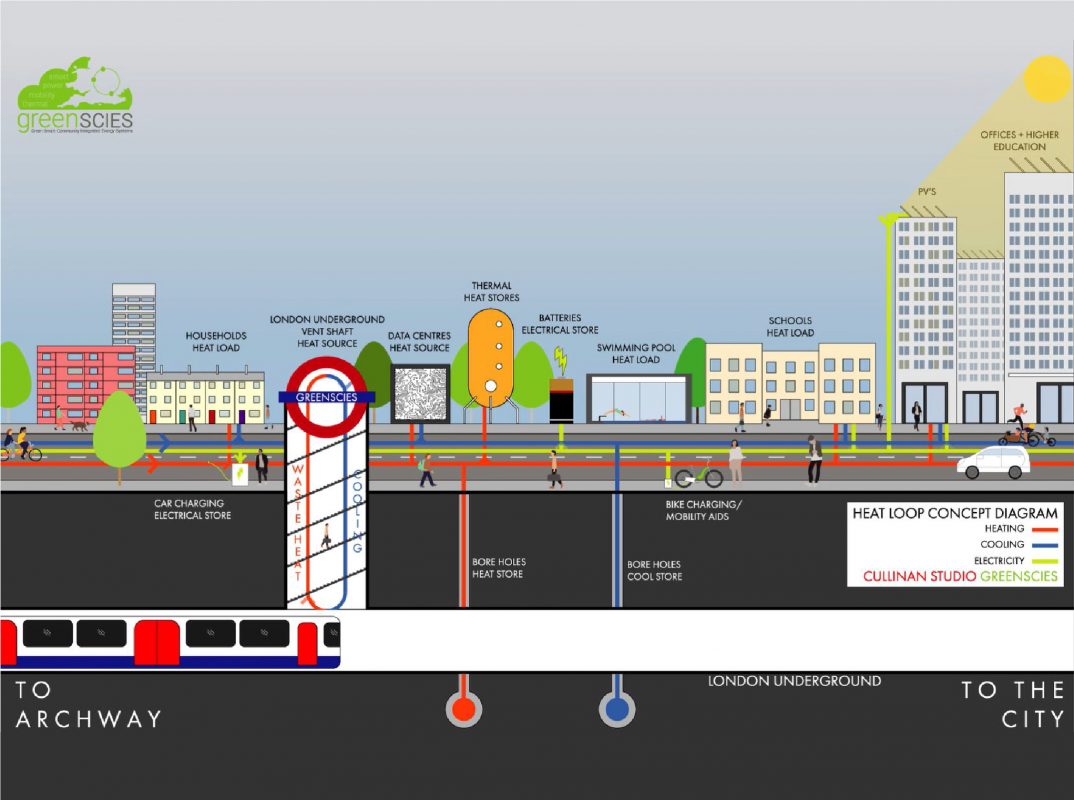 Categories:
News
/
Announcement
Revolutionary Low Carbon Smart Energy Grid to Combat Fuel Poverty, and Power Homes, Businesses and Electric Vehicles.
Consumers and businesses based in UK cities stand to benefit from a revolutionary low carbon smart energy grid called GreenSCIES (Green Smart Community Integrated Energy System), being launched today (18 February) in London and the West Midlands, by project partners: London South Bank University (LSBU), Islington Council and Transport for London (TfL).
Cleverly concealed underground, the new smart energy grid – which has currently reached design stage – will provide an answer to the challenge of powering inner cities of the future, revolutionising the way we live now and transforming lives, homes and businesses into sustainable energy districts, while tackling fuel poverty and the negative effects of climate change.
GreenSCIES aims to deliver a solution which can provide low carbon and low cost transport, power and heat to a total of 12,500 homes in the London Borough of Islington and Sandwell in the West Midlands.
When constructed, GreenSCIES systems will deliver low carbon heat, mobility and power to an estimated 33,000 residents and nearly 70 local businesses in Islington. The new smart energy grid will help to reduce carbon emissions by an estimated 80% (against conventional systems) while addressing fuel poverty by providing a significant reduction on consumer bills. The system will also deliver air quality improvements by reducing pollutants while improving provision of local skills training and job prospects, helping to invigorate local economies.
Chris Cox, Head of Energy Infrastructure at Cenex, said: "Electric vehicles are increasingly becoming the key component in the wider energy system – both as a source of demand and flexibility. In fact, we are increasingly seeing transport and energy coming together into a single system. Therefore, in order to create truly smart, resilient cities in the UK, we first need to learn how to effectively integrate and manage our vehicles in this context."
Greg Payne, Senior Technical Specialist at Cenex, said: "We are very happy to be a part of the ambitious GreenSCIES project, which is truly a multi-vector smart energy system project. Cenex's work on the integration and optimisation of vehicle-to-grid chargepoints will be key to the project providing a holistic energy solution."
The smart energy network will generate power from renewable energy sources while connecting to the electricity grid and to electric vehicle charging points. It will use artificial intelligence controls to connect flexible electricity demands from heat pumps and electric vehicles to intermittent renewable sources, including solar power – delivering clean, locally produced energy while reducing pollution and supporting a transition to low carbon transport.
The ground-breaking engineering science behind GreenSCIES has been developed by the GreenSCIES consortium – a collection of 16 business partners including a number of small and medium sized enterprises (SMEs), under the umbrella InnovateUK and funded by UK Research and Innovation (UKRI) through the Government's Industrial Strategy Challenge Fund.
As a 'fifth-generation' energy network, GreenSCIES goes further than previous projects in the UK. The system works by sharing heating and cooling between buildings, to ensure a balanced energy supply across the network: waste heat is captured from secondary heat sources – including office buildings, data centres and the public transport network. The temperature of the waste heat is then raised or cooled using heat pumps before being distributed to homes, businesses and communities, all year round. By drawing on waste heat produced by data centres that support the Internet, the smartgrid will channel energy from the Internet to power homes, offices and transport networks of the future.
The impact of LSBU's research for GreenSCIES reaches well beyond the Capital and will be relevant wherever there are sources of unwanted or unused heat, for example large data centres, industrial heat and mine water.
Graeme Maidment, Professor of Heating and Cooling in the School of Engineering at London South Bank University (LSBU) and Director of GreenSCIES consortium, said: "GreenSCIES provides a brilliant opportunity to deliver low carbon energy in urban areas. This fantastic consortium will develop new systems and business models to provide fairer access to low cost and low carbon energy supply for local residents in inner cities – many of whom are fuel poor. We will also investigate policy models and strategies to optimise their adoption at local, national and international levels."
Asa Barber, LSBU's Dean of Engineering, said: "People often assume that universities only work with large corporations, but GreenSCIES demonstrates how, at London South Bank University we have been able to bring together over a dozen small business enterprises to deliver a project with international potential.
"Applied research of this kind also plays a key role in enriching teaching at LSBU, ensuring that students are given up to the minute information, directly informed by the University's work with industry."
Cllr Rowena Champion, Islington Council's executive member for environment and transport, said: "We are proud to be part of the GreenSCIES consortium, developing new and innovative ways to tackle a host of issues we face, not only here in Islington, but in cities and urban areas across the world.
"Harnessing waste heat from data centres and other urban sources is an inspired approach to not only help reduce fuel poverty for thousands of people, but also increase the share of journeys taken using zero-carbon transport, while helping Islington achieve its target of being a net carbon zero borough by 2030."
David Richardson, Innovation Lead for Energy Systems at UKRI, said: "The GreenSCIES team have developed an innovative approach to the design of heat networks. They have formed a broad and diverse team which is working effectively towards solving a complex challenge – which is a difficult thing to do. I'm confident that this project will provide a leap towards Islington's net-zero ambitions. Hopefully it will also prove that the design can be successfully replicated across the UK. GreenSCIES is definitely one to watch."
In future, GreenSCIES plans to establish a new Centre of Excellence that will work with industry to carry out in-depth research and disseminate results globally. The Centre will ensure that the benefits of GreenSCIES systems are achieved in the widest possible range of locations, where a mix of energy supplies and demand patterns vary significantly, and over time. The consortium plans to research how GreenSCIES could be replicated both in the UK and elsewhere, by looking at the introduction of new business models and policy interventions.