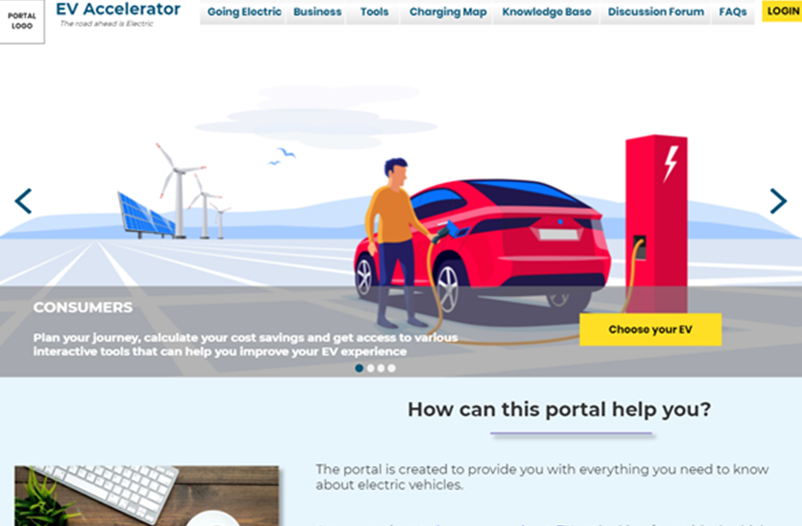 India EV Web Portal
Case Study
The Challenge
The widescale uptake of EVs within India is hampered by a lack of impartial and accurate information on their performance, operation, and cost of ownership.
EVs have the potential to deliver four key policy outcomes for the Indian Government: clean air, lower CO2 emissions, reduced reliance on oil imports, and job-creation through electric vehicle manufacturing.
The development of the EV market across India is fundamentally linked to prospective consumers' general awareness and understanding of the potential benefits of EVs. It is therefore important that a comprehensive, independent, trusted, one-stop platform is established that can address the potential concerns around EVs and serve as a repository of relevant information to inform prospective buyers and commercial organisations.
The Development
The web portal development activities were delivered based on a three-pronged approach, ensuring that international expertise in e-mobility was reflected within the India-specific market requirements:
Reviewing international website content – the team started by rating the content and features of a range of international e-mobility websites; the useability and functionality of the identified websites were rated to highlight any key features that could be replicated within the project framework.
Developing a features matrix – using the international website review matrix above, the features and content that were of relevance to the Indian market were assessed. This approach highlighted those features that were easy to develop and could have a large impact on consumer behaviour, such as educational awareness and basic EV information, along with those features that may be difficult to develop and/or maintain. The completed matrix ranked the potential benefits according to specific user types and their associated needs.
Developing a web portal framework – the features matrix was then used to highlight the structure and framework required to generate the proposed EV portal and the associated data and maintenance needs. Those elements that were considered 'essential' were included within the initial framework build, while those identified as requiring more time to develop were queued for later development. Throughout this process a series of guiding principles were utilised around the appropriate design philosophy and the use of impact driven messaging and imagery.
The Result
The outcomes of the EV portal development project identified several essential features that should be included when the site is launched, including electric vehicle technology summaries, benefits of electric vehicle ownership, relevant regional policies and existing tariff schemes, and tax incentives for vehicle buyers & chargepoint operators.
In addition to the above static information pages, several interactive tools were highlighted for further development, including:
EV Finder, where potential EV buyers would be able to compare a range of different electric vehicles to identify those most appropriate for their needs.
Car Tax Calculator, where potential EV users could calculate the likely cost savings of switching to an electric vehicle.
EV Journey Planner, where potential EV users could plan their journeys to identify potential charging locations.
LCA Tool, where potential EV users could compare the life cycle emissions associated with an electric vehicle versus their current vehicle.
An initial portal framework was created, which was used to develop the required data and information inputs as well as the structure required to facilitate successful user interactions. This was combined with a design philosophy developed by Cenex. TERI used this to create a prototype for the web-portal.
The framework and prototype were presented by Cenex to three key Ministries of the Government of India including NITI Ayog, the premier policy think tank of the country. NITI Ayog and Government of India have decided to host this EV Portal as a national one-stop web campaign for promoting EV awareness in India.