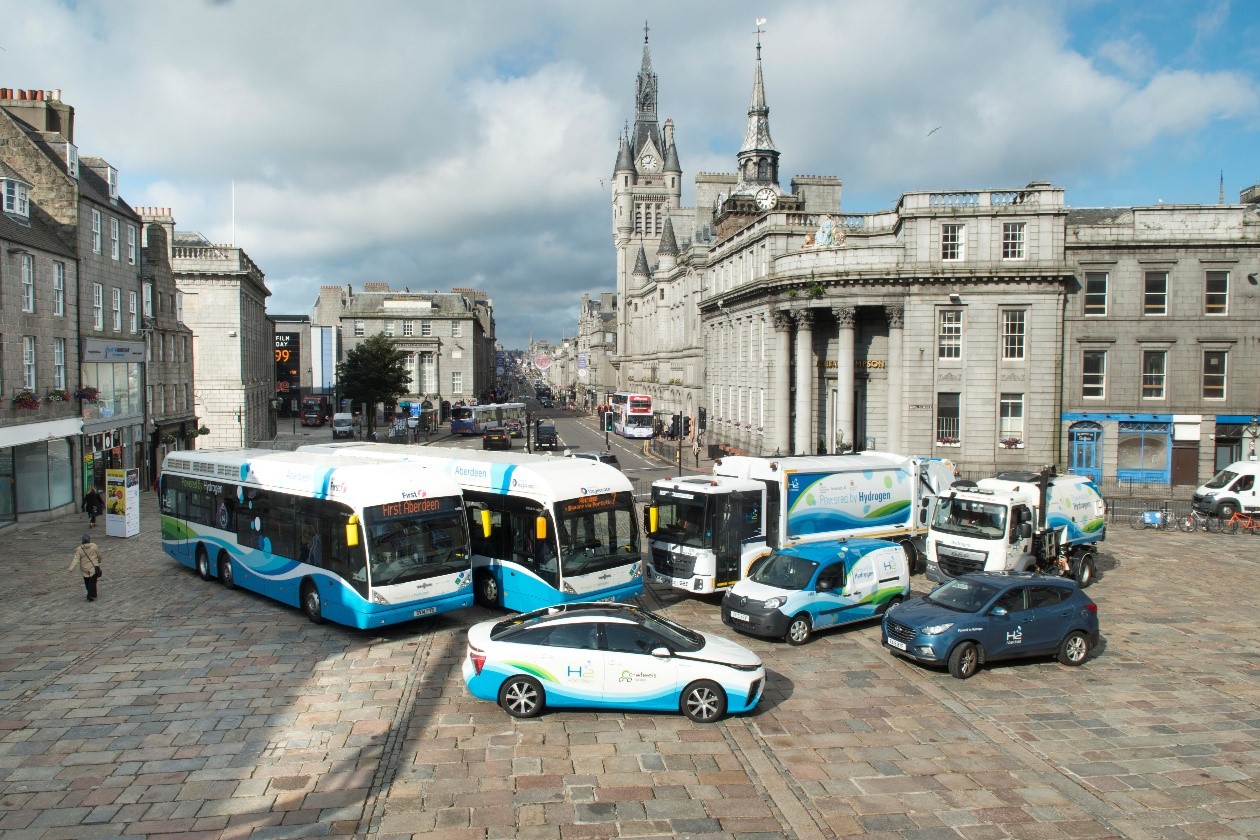 North East Scotland Hydrogen Review
Case Study
The Challenge
Aberdeen City Council (ACC) and its partners Opportunity North East (ONE) and Scottish Enterprise (SE) commissioned Cenex to carry out a review of potential hydrogen demand from 12 North East Scotland (NES) fleets.
With funding and support from Interreg Europe Smart HyAware, Opportunity North East and Scottish Enterprise, Aberdeen City Council is working with public and private sector organisations (Aberdeenshire Council, Angus Council, Highland Council, Moray Council, NatureScot, North East Scotland College, NHS Grampian, Robert Gordon University, Royal Mail, Scottish Water and Scottish Environmental Protection Agency) to develop fleet procurement strategies and infrastructure plans to identify how hydrogen could help decarbonise our fleets.
The overall aim for this project was to establish the potential for hydrogen vehicle deployment in order to raise demand for hydrogen in the city and establish Aberdeen as a hydrogen hub. This will help deliver one of the objectives from the Aberdeen City Region Hydrogen Strategy and Action Plan 2015-2025 to promote vehicle deployment by a range of stakeholders in the region.
The project aimed to:
Identify sufficient potential use cases for hydrogen vehicles to leverage private sector investment in the deployment of hydrogen refuelling stations (HRS) backed by renewable energy generation.
Help build the case for organisations in the vehicle supply chain to improve the availability of hydrogen vehicles at viable prices in a range of vehicle categories.
Identify refuelling requirements to support additional hydrogen vehicles.
Facilitate closer collaboration between the public sector and vehicle and infrastructure supply chains.
Inform a joint public sector procurement exercise to maximise value for money.
The Development
Fleet Baselining
Review fleet data supplied by the fleets listed above
Review duty cycle data to identify suitable deployment opportunities for hydrogen fuel cell vehicles
Market Assessment
Desktop review of roadmaps to appraise future scenarios for hydrogen technology development
Supplier engagement to secure price and technical information
Fleet Demand Scenarios
Zero emission vehicle (ZEV) suitability assessment
Scenario development and analysis for deployment of hydrogen vehicles in each fleet and expected environmental benefits
Refuelling Infrastructure
Review of current refuelling infrastructure in NE Scotland
Cost estimates and comparisons of options for providing refuelling infrastructure
Spatial analysis to propose indicative locations for new refuelling stations
Whole Life Cost Analysis
Whole life cost modelling – cost implications of hydrogen under current conditions
H2 cost sensitivity analysis – identifying a target price for hydrogen to improve the business case
Dissemination
Presentation of draft findings
Final report
The Result
The analysis of the combined vehicle fleet of over 4,000 vehicles shows that 89% of the fleet is compatible with zero emission solutions (EV and hydrogen solutions considered). Whilst this analysis established that Battery EVs could look to address 57% of the fleet, it revealed that hydrogen solutions could be used for the entire fleet, with a subset of 32% that could only be addressed through hydrogen.  This would then result in an annual demand for hydrogen of 745 tonnes, 92% of which would come from heavy duty vehicles.  This further demonstrates the opportunity that the Aberdeen Hydrogen Hub offers the region for collating demand to kickstart a hydrogen economy.
Image credit: Norman Adams-Aberdeen City Council