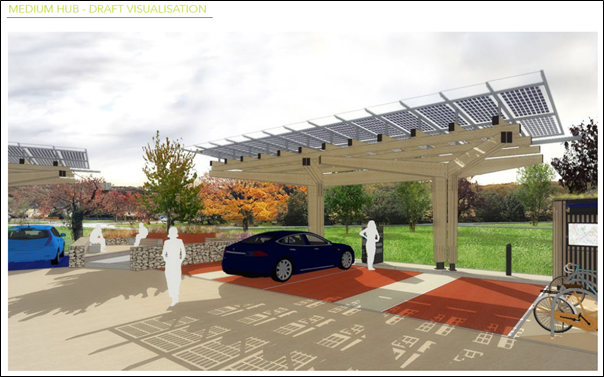 Plymouth Mobility Hub Network
Case Study
The Challenge
As part of the Transforming Cities Fund (TCF), Plymouth are aiming to develop a network of mobility hubs around the city with up to 50 mobility hubs deployed within the next 3 years.
The Mobility Hub Network project meets the aims of the TCF through the provision of low carbon shared transportation and new charging infrastructure connecting the region's two TCF corridors, increasing connectivity to key employment markets, education, health and leisure facilities, and services. It aligns with the policies contained within the Department for Transport's Road to Zero Strategy 2018, which specifically details the crucial role of charging facilities in meeting the Strategy's objectives.
The Development
Cenex were commissioned to perform a site selection exercise to determine possible mobility hub locations for Plymouth and then to assess these locations in accordance with key criteria such as: convenience to the user, ease of installation, visibility and accessibility, ease of modal shift, safety, and practicality of additional facilities such as toilets and cafes.
The purpose of the mobility hubs was defined as the following:
Reduce congestion, reduce carbon dioxide emissions from transport, and improve air quality
Improve access and connectivity to employment, education, health, and leisure facilities
Improve mobility opportunities in low income neighbourhoods
Encourage active travel
Provide charging infrastructure for electric vehicles
The Result
Cenex performed a stakeholder engagement exercise with Plymouth City Council and organisations relevant to the implementation and delivery of mobility hubs. Through this Cenex produced a set of key criteria and a hierarchy established in order to identify and select potential sites suitable for a mobility hub, resulting in a list of over 100 locations.
Through a mapping exercise considering road traffic flows, active travel schemes, and potential travel demand these sites were then classified according to their potential to facilitate a small, medium, or large mobility hub.
A shortlist of the best ranked sites was produced through analysing the convenience of the site (from a user perspective) and the ease of installing a mobility hub in the location. A shortlist of 39 sites was produced to take forwards along with a prioritised delivery plan for these sites, and an indication of the timescales and energy requirements of each site.
Plymouth aim to deploy the first of these mobility hubs by 2022 with the project coming to a conclusion by 2023 when up to 50 hubs will be deployed. The mobility hubs project will provide at least 300 electric vehicle chargepoints, 400 e-bikes, car clubs, 0.5 megawatts of solar carports, and a smart booking system. Local residents, employees, businesses, and visitors will be able to plan their journeys to use public and shared transportation, both in the city and on the main routes into Devon and Cornwall.
*Image depicts draft Mobility Hub concept