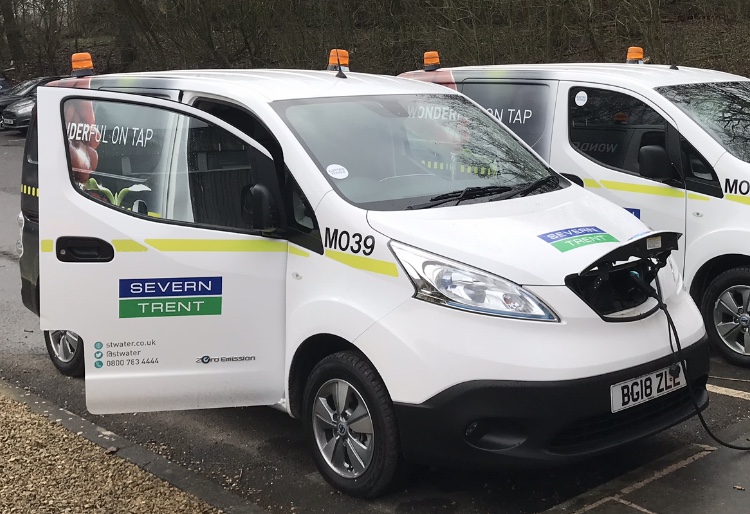 Categories:
News
/
Announcement
/
Press Releases
Cenex review supports Severn Trent's electric vehicle ambition
Severn Trent has taken a step closer to its electric vehicle ambition, thanks to a comprehensive fleet review by Cenex.
The water and waste company has pledged to have an entire fleet of electric vehicles by 2030 – a move that's been backed by Cenex, who confirmed replacing its fleet of diesel vehicles will bring a major boost to the environment.
The review identified a 52,000 tonne reduction in carbon dioxide emissions and 80,000 kg of NOx when Severn Trent completes the transition to a fleet of low emission vehicles.
Where electric battery-operated vehicles are not suitable for some of its fleet for operational reasons, Cenex found biomethane-powered vehicles presented a viable short-term solution.
Other key findings identified where charging points will be required in order to support this transition, including depots and employee's homes, as well as highlighting potential sites where dedicated natural gas refuelling stations could be installed.
Severn Trent's electric vehicle ambition forms part of its triple carbon pledge, which will also see it achieve carbon neutrality and use 100% renewable energy by 2030, well ahead of the UK Government's own 2050 target.
Rob Anderson, Senior Fleet Specialist at Cenex, said:
"The UK Government's Net Zero target will require zero-emission vehicles to be deployed across all industry sectors. Severn Trent, and other similar utility providers, operate a wide range of vehicles with specific usage profiles, weight limitations and high ancillary power loads due to the use of specialised equipment, and the need to power hand tools at various locations.
"Our in-depth operational and cost of ownership analyses have shown that, despite these operational constraints, there is still the potential for Severn Trent to deploy many electric vehicles within their fleet. Their shift towards electric, and other low emission vehicles, highlights that other fleets can also make the transition with minimal impacts on their business operation.
"It has been a pleasure working with Severn Trent, knowing that our advice and insights will help them on their journey towards Net Zero."
Chris Wand, Head of Supply Chain at Severn Trent, added:
"This comprehensive review from Cenex has helped to point the way, as we work towards transitioning to an entire fleet of electric vehicles by 2030.
"We have just over 2000 vehicles across our current fleet, which mainly run on diesel. The environmental findings in this report confirm why it's so important we make this change and deliver cleaner and greener ways to travel for our teams."