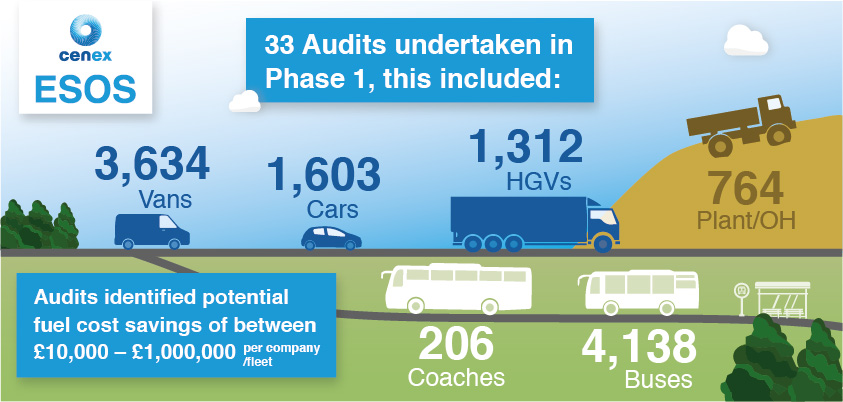 Get Your Fleet ESOS Ready

Background to ESOS
The EU's Energy Saving Opportunity Scheme came into force in November 2012 and is designed to drive improvements in energy efficiency.  It includes a requirement that all UK organisations that meet the qualifying criteria must undertake and complete an energy audit every four years, starting in December 2015. The submission date for Phase 2 is 5th December 2019.
What is the focus of a transport ESOS audit?
ESOS Audits provide you with a clear analysis of your organisation's annual transport fuel and energy use along with a range of identified measures aimed at making savings; helping you take steps towards the development of a transport specific energy and fuel reduction strategy.
They are designed to identify and rank fuel efficiency measures within a wide variety of vehicle types, including cars, vans, rigid trucks and tractor units as well as more exotic equipment such as off-highway machinery, forklift trucks and grounds maintenance equipment.
The results of our services guide you towards operationally practical solutions that offer both fuel reductions and best-case economic impact, ensuring well-informed decision making. In 2014 audits identified potential fuel cost savings of between £10,000 – £1,000,000 for organisations, depending on the measure being implemented.
On completion of an Audit you will be supplied with a written report containing an assessment of your existing transport operations, along with:
Identified energy and fuel saving measures to implement
An analysis of the potential annual cost and energy savings
Get in touch today for independent advice and support on reducing your fleet emissions.
How can we help?
Our audits identified a range of energy efficient strategies that could be applied, from the use of aerodynamic trailers, retrofit hybrid systems and improved telematics systems to driver training and reduced idling programmes.
With unrivalled expertise in low carbon vehicle technologies, we are acknowledged experts in the undertaking of low carbon fleet assessment and auditing services and have established a proven approach for the development, auditing and review of energy efficient fleet strategies for multifaceted fleets.
Who can we help?
During Phase 1 of ESOS, Cenex delivered specific transport assessor services to a wide range of customers including:
Care Homes
Logistics/ Haulage Companies
Chilled/ Frozen Food Delivery
Charities
Online Retailers
High-street Retailers
Healthcare Manufacturers
Construction Industry
Bus/ Coach Companies
Marketing Agencies
Digital/ Software Manufacturers
What savings could you make?
We are one of the UK's leading providers of transport specific ESOS auditing, reporting and lead assessor services
Getting ahead now means that your business can take advantage of the opportunities ESOS can bring.
The submission date for Phase 2, which is 5th December 2019, is fast approaching. Contact us today to see what you could save.