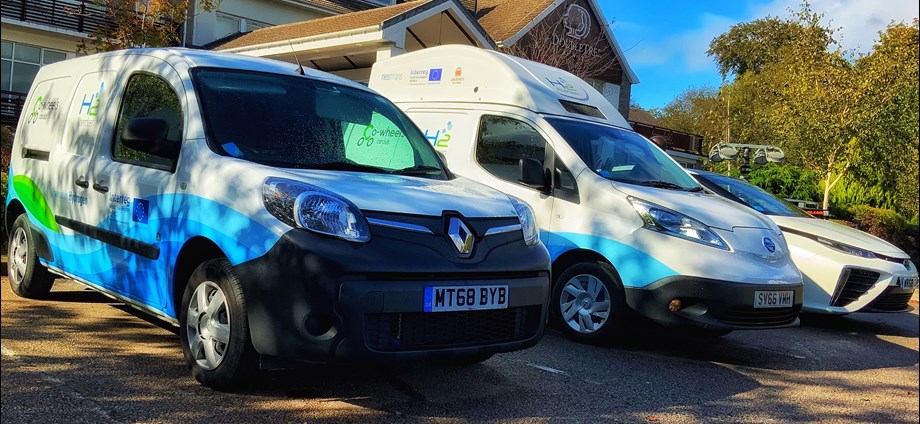 North Sea Region hydrogen project nominated for European award
The Hydrogen Transport Economics (HyTrEc-2) project has been recognised for its innovation and good practice by reaching the final round of the 'Smart Growth: Industrial transition for a Smart Europe' category at the REGIOSTARS Awards.
It is the first time the project has been nominated at the yearly competition, organised by the European Commission's Directorate General for Regional and Urban Policy.
HyTrEc-2, funded by Interreg, puts the people, skills and experience required in the North Seas Region to kickstart the hydrogen economy with a transport focus.
It aims to build the business case for hydrogen transport and expand the network out by developing experience with hydrogen vehicles and refuelling stations so that others can benefit from the lessons.
The North Sea Region is a suitable testbed for hydrogen because many of the shipping ports are a long way from the final destinations and the demands of transporting goods through rural areas are harder for battery electric vehicles to accommodate.
Bringing the North Sea Region countries together ensures an integrated approach to hydrogen transport infrastructure so that vehicles and vessels can follow the same standard and work seamlessly across borders.
There are over 25 vehicles on the road as a result of the project, driven by members of the public and local council staff, and Cenex monitor those vehicles and several hydrogen refuelling stations to evaluate how effectively they work together.
Getting vehicles on the road is something HyTrEc-2 has been very successful at doing, and getting real world results from them.
There comes a point when you need to put wheels on tarmac, in the hands of real people, and only then can you discover things that weren't considered in desk-based research, such as the impact of salt spray on the mechanisms of the refuelling stations near the coast.
It's always nice to be recognised; the nomination for the REGIOSTAR awards is stamp of quality of how to do real world trials of novel technologies and we can use that to accelerate the transition to net zero transport.
If HyTrEc-2 is fortunate enough to win, the prize will be put towards dissemination of project  findings, and we can use that to get the message out to people who need to know it – we can explain the benefits and pitfalls to the right people, and build the business case for zero emission hydrogen vehicles.
To vote go to https://regiostarsawards.eu/, scroll down, or Ctrl+F, to find HyTrEc2 and click on the heart.