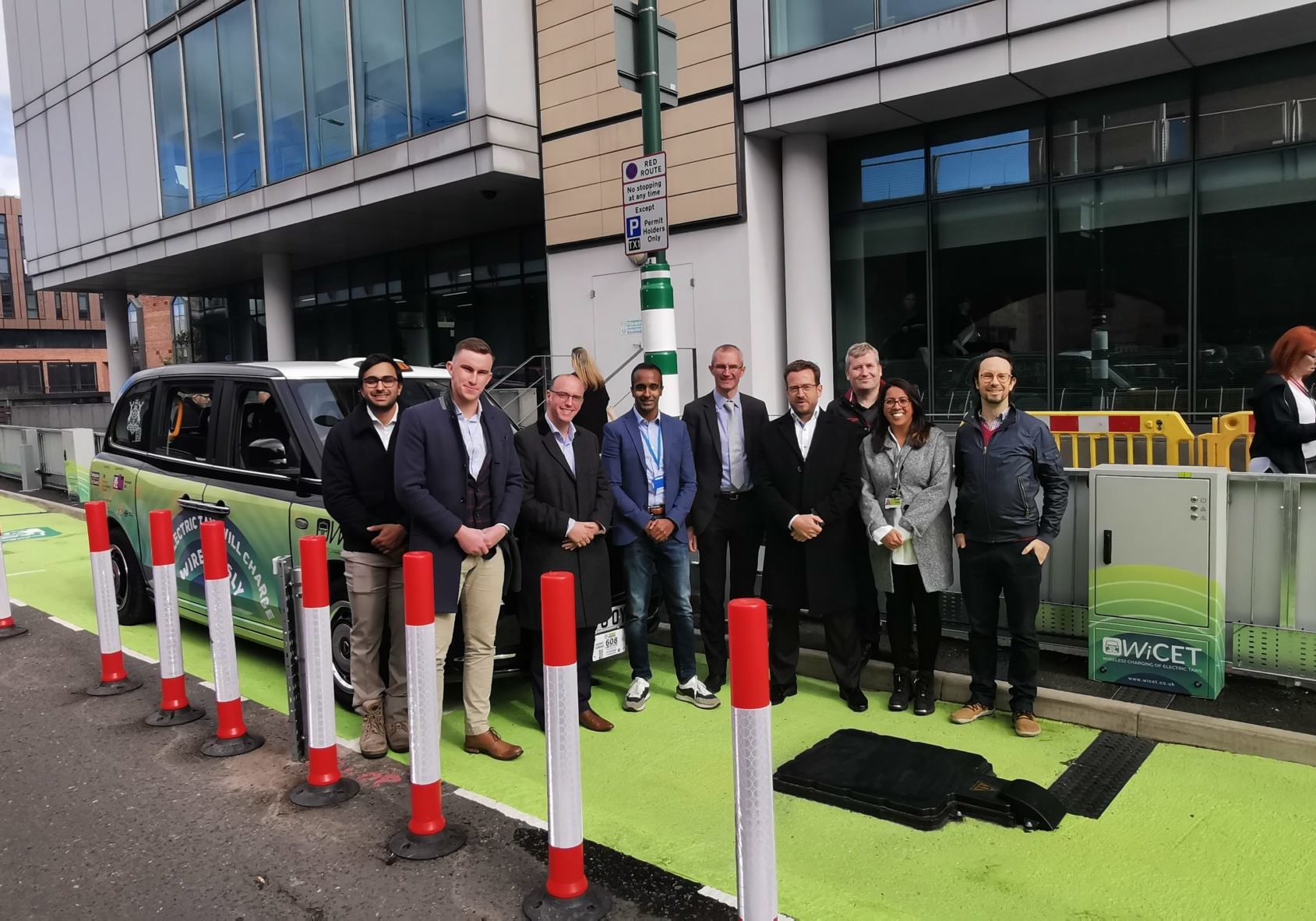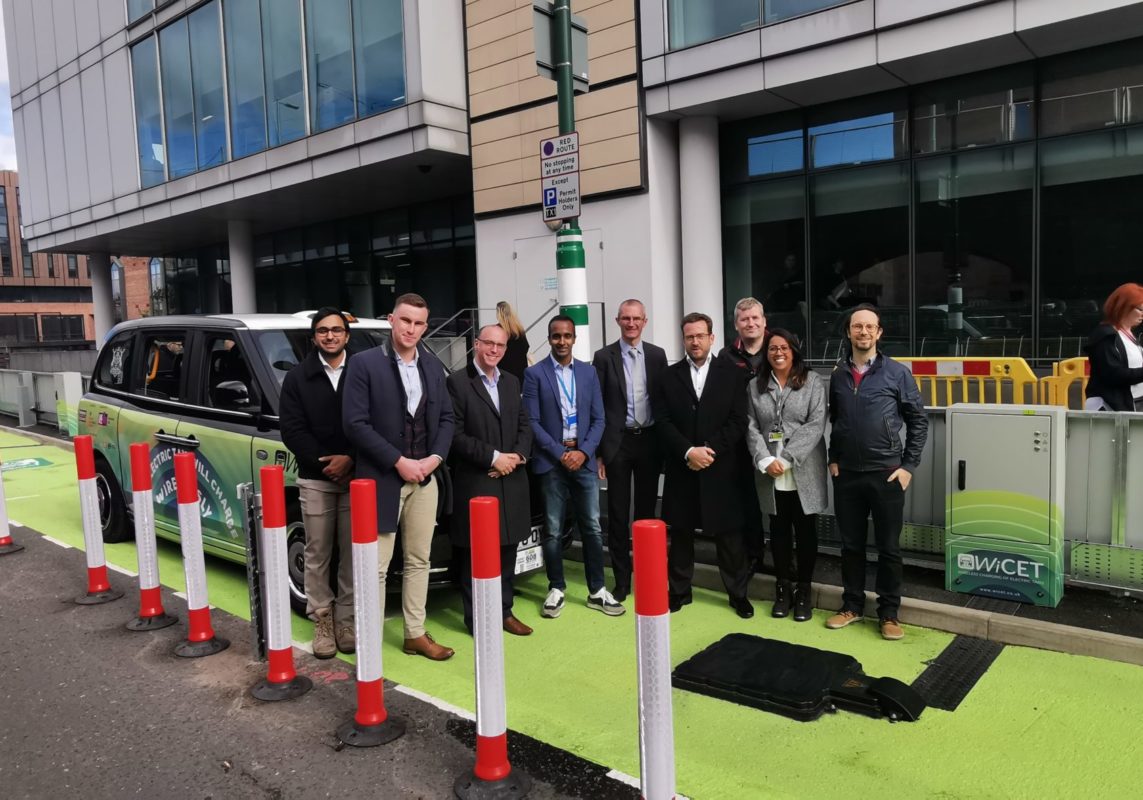 Categories:
News
/
Announcement
/
Project Update
Wireless Charging Electric Taxi Trial goes live



People in Nottingham are now able to ride in unique taxis that have been specially modified with the latest, highly efficient, wireless charging technology, to make them easier for drivers to recharge.
The Wireless Charging of Electric Taxis (WiCET) trial is a government funded project that has installed wireless charging equipment on to electric hackney carriages and into a taxi rank in Nottingham. For this 'first of its kind' trial in the UK, five wireless ground transmitter pad systems have been installed at the main taxi rank near the train station, and nine electric hackney carriages have been retrofitted with wireless receiver pads – five LEVC TX Taxis, and four Nissan Dynamo taxis.
Electrification of taxi fleets in congested city areas is a crucial step in the reduction of transport emissions and improving air quality. However, the time taken for high-mileage taxi drivers to recharge can lower the driver's earning potential. Cable charging with physical connections is usually inconvenient and impractical in a taxi rank.
The WiCET trial gives drivers the opportunity to wirelessly recharge their vehicles, in-rank, while waiting for their next passengers. The system allows simultaneous charging of multiple vehicles so that drivers can use the rank for short, top-up charging bursts while they queue for fares without needing to leave their vehicle.
Wireless charging will take place when the driver, using the guidance of a screen in the cab, completes a simple process that aligns the taxi over the pad so that it charges while stationary. As the taxis move forward in the rank, the driver will then realign with the next pad and charging will recommence. Drivers will be billed for their total charge at the end of the day through an app on their phone.
The trial officially launched today with a demonstration of the technology at the rank on Trent Street, with Nottingham Councillor Sally Langford and Abdul Chowdhury, Head of Vehicle Policy, Office for Zero Emission Vehicles, in attendance.
Richard Sander, WiCET Project Manager and Technical Specialist at Cenex, said:
"Wireless charging has the potential for effective deployment across a wide range of applications from public transport to emergency vehicles and mobility solutions, and the results from our research will go on to inform future deployments.
"We are extremely proud to be starting the first physical trial of Wireless Charging of taxis in the UK here in Nottingham. This is a big step in understanding and demonstrating the potential of wireless charging as a core technology in the Electric Vehicle transition.
"Everyone involved in the project has worked hard behind the scenes to get us to this point, and I'm excited to see the impacts this will have for drivers, passengers and the environment".
Councillor Audra Wynter, Portfolio Holder for Highways, Transport and Parks at Nottingham City Council said: "It's fantastic for Nottingham to be at the forefront of this amazing project – the first city in the UK to have this cutting-edge technology. Wireless electric taxi charging will help improve local air quality and reduce noise pollution while helping our taxi drivers to work efficiently.
"After so much work and preparation by our teams and partners, it's great to see the nine electric taxis take to the streets and start serving passengers. We're looking forward to hearing from local cabbies, residents, and visitors with their thoughts.
"Our proud history as a green city, and ambitious plans to become the UK's first carbon neutral city by 2028, makes Nottingham the perfect place to test these innovative future transport technologies."
Professor Stewart Birrell, Professor of Human Factors for Future Transport at Coventry University's National Transport Design Centre, said: "Wireless charging is like any other technology solution in that the design needs to consider the user experience to increase acceptance and robust implementation.
"A potential barrier to the adoption of this technology by drivers is that to charge efficiently, the taxis have to be precisely aligned with ground charging pads. If the technology doesn't work for drivers, they could miss out on potential fares.
"Our researchers from Coventry University's National Transport Design Centre have worked with Nottingham taxi drivers to understand exactly what they need from the wireless charging system. This resulted in an in-vehicle interface that allows for much more accurate parking and therefore efficient charging. The bespoke display inside the vehicle now guides the drivers in the alignment process to ensure that the driver can position the taxi directly over the wireless pads, making vehicle charging much more efficient and easier to use".
Steve Large, Managing Director of Hangar19, said: "We are delighted our Park and Recharge solution will run the WiCET wireless demonstrator. We are constantly innovating to offer our customers the best solutions for their network. We are excited to have developed the system to manage wireless charging as the latest addition to our portfolio of supported chargers".
A pilot testing phase demonstrated the wireless charging system as being around 90% efficient, and the taxis will charge at 10 kW.
The trial will assess the suitability of wireless charging and aims to make charging easier to encourage fleets to accelerate their transition to electric vehicles. The trial will demonstrate the capability of wireless as an alternative, complementary charging technology and understand the business case. Wireless charging offers the potential to boost the transition to Electric Taxis as the UK heads towards the 2030 ban of petrol and diesel cars. Eventually wireless charging could lead to reduced street clutter for charging vehicles and could be rolled out more broadly for other uses, helping the switch to clean, zero emission electric vehicles.
Wireless Charging of Electric Taxis (WiCET) received £3.4 million of funding from the Office for Zero Emission Vehicles and supported by Innovate UK. The project is led by Cenex, in collaboration with Coventry University, Hangar-19 Limited, Nottingham City Council, Shell Research Limited, Sprint Power Technology Limited and Transport for London, with Lumen Freedom as the selected wireless charging hardware supplier.