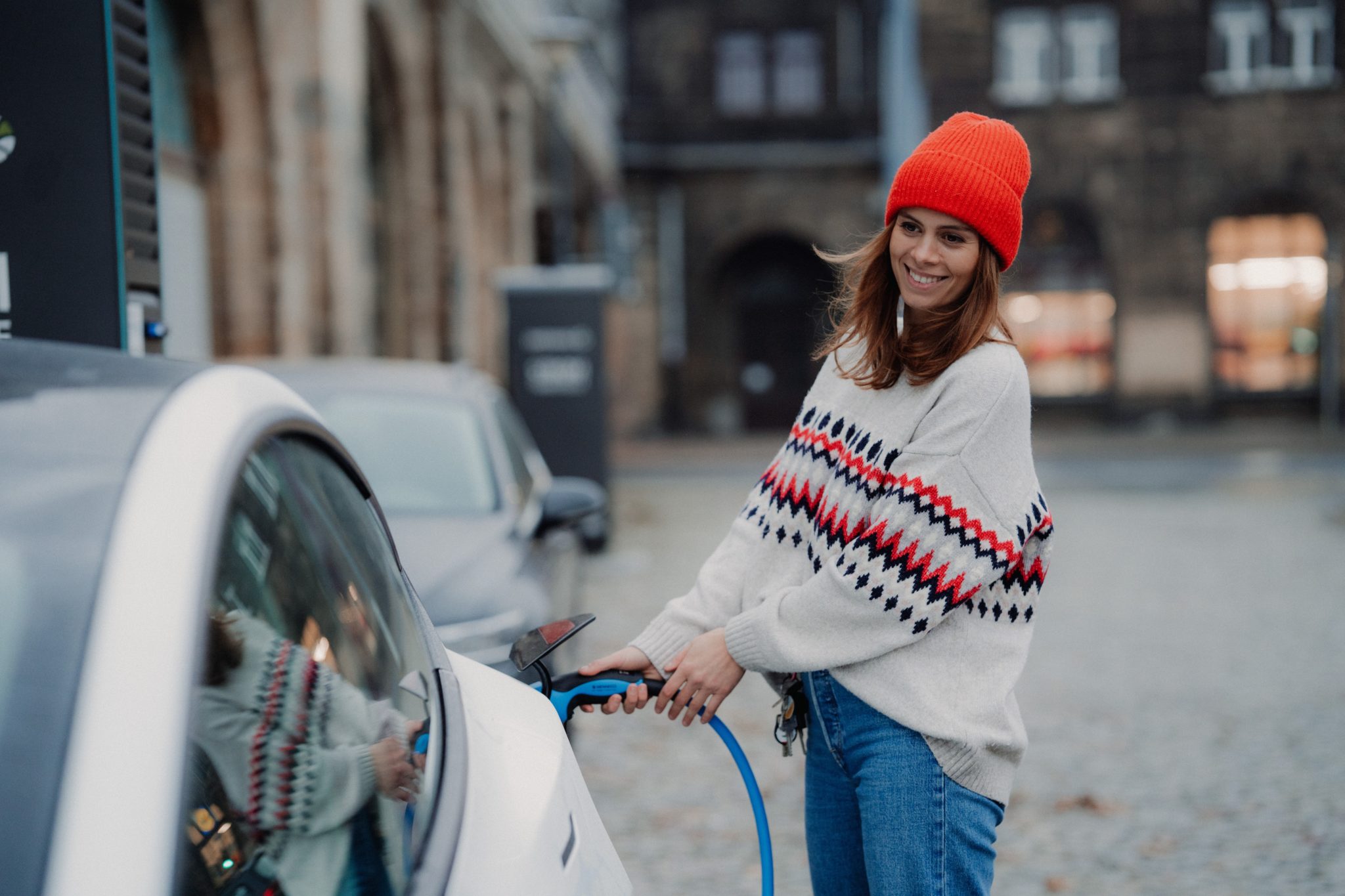 Categories:
News
/
Announcement
/
Press Releases
Young drivers most likely to consider an EV as their next vehicle – but they still don't think they can afford one
A new study into EV adoption in the UK, published today in association with World EV Day by a consortium of the UK's leading automotive experts, has revealed that despite the current adoption being higher among older drivers, young drivers aged 25-34 are the most likely to consider an EV as their next vehicle.
The study of over 1,900 UK drivers*, conducted by IPSOS on behalf of LeasePlan UK, LV= General Insurance and ElectriX, Shell Recharge, Ohme, Cenex, Auto Trader, Connected Kerb, Fastned and EV Association England, found that, among those who intend to buy, lease, subscribe to, or replace a car or van in the future, over three quarters (77%) of those aged 25-34 years old said they would definitely or probably consider going electric for their next vehicle, compared to 49% for those aged 55 to 75.
Despite the high demand, the findings also show younger drivers to be more likely than older drivers to perceive some costs of driving an EV to be higher than petrol and diesel vehicles.
More than a third of drivers aged 25-34 (37%) think the overall running costs of EVs are more expensive than a petrol or diesel vehicle, compared to one in five (22%) for those aged 55-75. Similarly, 37% of 25-34-year-olds think servicing and general maintenance is relatively more expensive for EVs, compared to only 27% of 55-75-year-olds.
The perceived cost of charging also proved to be a sticking point for younger drivers. A third of 25-34-year-olds (32%) said they think the cost of charging an EV is more expensive than the cost of refueling an equivalent petrol or diesel model, despite fuel costs reaching an all-time high earlier this year. This compares to just 14% of 55-75-year-olds.
Around two-fifths (39%) of 25-34-year-olds think that any monthly loan repayments, lease costs or subscription fees for an EV are more expensive than a petrol or diesel model, compared to a quarter (26%) of 55-75 year-olds.
Chris Rimmer, Infrastructure Strategy Lead at Cenex, said: "This is an exciting and crucial time for road transport as low emission technology advances rapidly.
"It is important that we're able to make informed decisions about our future transport options, and this white paper highlights the need to tackle misconceptions around barriers to adoption, particularly among younger drivers where the motivation to make the switch is greatest."
Ade Thomas, Founder of Green TV and organisers of World EV Day, said: We've brought together some of the biggest players in the UK automotive industry to conduct this crucial piece of research into the next phase of EV adoption.
"Our collective goal is to better our understanding about how we, as an industry, and a nation, can best mobilise the next generation of EV drivers. By getting into the head of the consumer with a substantive piece of research from Ipsos, and identifying key friction points, we can truly see what changes need to be made to help them to make the switch."
Neill Emmett, Head of Marketing at LeasePlan UK, added: "The findings from our partner study are particularly striking as they emphasise just how far we still have to go as an industry when it comes to supporting younger drivers to go electric. As we've seen, motivation amongst younger drivers around EVs is extremely high – they want to make the switch but simply don't think they can afford it. This has been exacerbated by the ongoing cost of living crisis, as day-to-day expenses become an increasingly important issue.
"In general, most EV models work out cheaper than diesel or petrol cars due to the lower whole-life costs. However, the upfront costs remain prohibitive, with many manufacturers pricing young people out of the market. We urgently need greater access to more financially attainable vehicles."
The full findings of the report, along with the group's recommendations on what changes need to be made to mobilize the next cohort of EV drivers, can be found here: https://www.worldevday.org/research