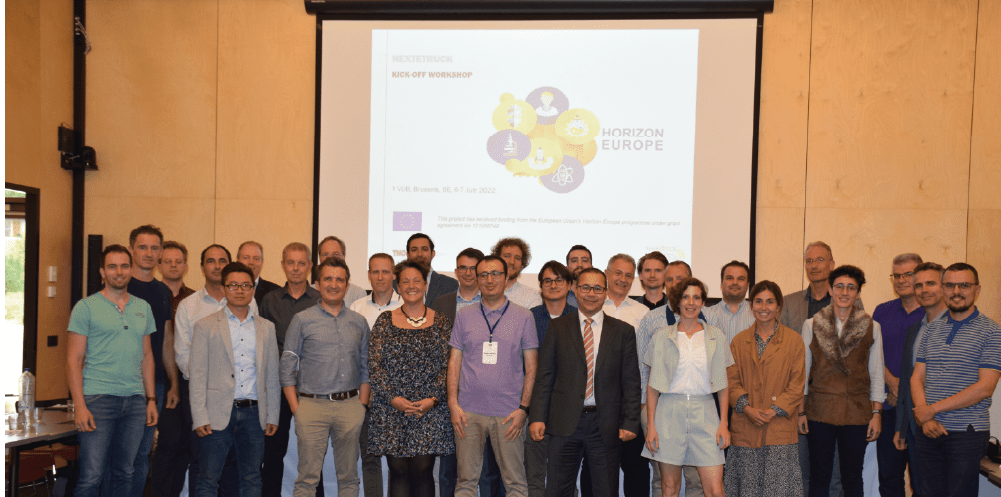 Next Generation Electric Trucks (NextETRUCK)
Project
Project Brief
NextETRUCK (efficient and affordable zero-emission logistics through Next-generation Electric TRUCKs) aims to play a pioneering role in the EU's objectives to be a zero emission economy by 2050. The project contributes to zero-emission vehicles and ecosystems that are holistic, innovative, affordable, competitive, and synergetic and is co-funded under the European Commission's Horizon Europe research and innovation programme.
The project builds concepts tailored for regional medium freight haulage with at least a 10% increase in energy efficiency compared to existing highest-end benchmark electric vehicles. In addition, it prepares concept and infrastructure demonstrators for fast charging. Finally, NextETRUCK offers new business models to increase end-user acceptance and foster the market uptake of the project solutions.
Running between 1 July 2022 and 31 December 2025 with consortium members from 8 countries, NextETRUCK deploys three real-case demonstrations in Istanbul, Barcelona, and Utrecht.
Objectives
NextETRUCK aims to offer a significant leap of knowledge at component, vehicle, fleet, infrastructure and ecosystem levels, via innovations at e-powertrain components and architectures, smart charging infrastructure and management, improved thermal design of the cabin, fleet management systems with IoT and digital tools.
Deliverables
Cenex is involved in several activities in the project:
Contributing to the system architecture optimisation through providing a TCO framework to assess the impact of design changes.
Supporting development of a fleet-level decarbonisation strategy tool.
Developing a tool to optimise charging infrastructure planning considering routes, charging demand, grid capacity etc.
Supporting the delivery of the trial vehicles in three demonstrator cases (deployed in Turkey, Spain, Netherlands) through data collection and processing of vehicle operation and user experiences.
Supporting evaluation of the project vehicles including leading on an assessment of environmental and cost impact.