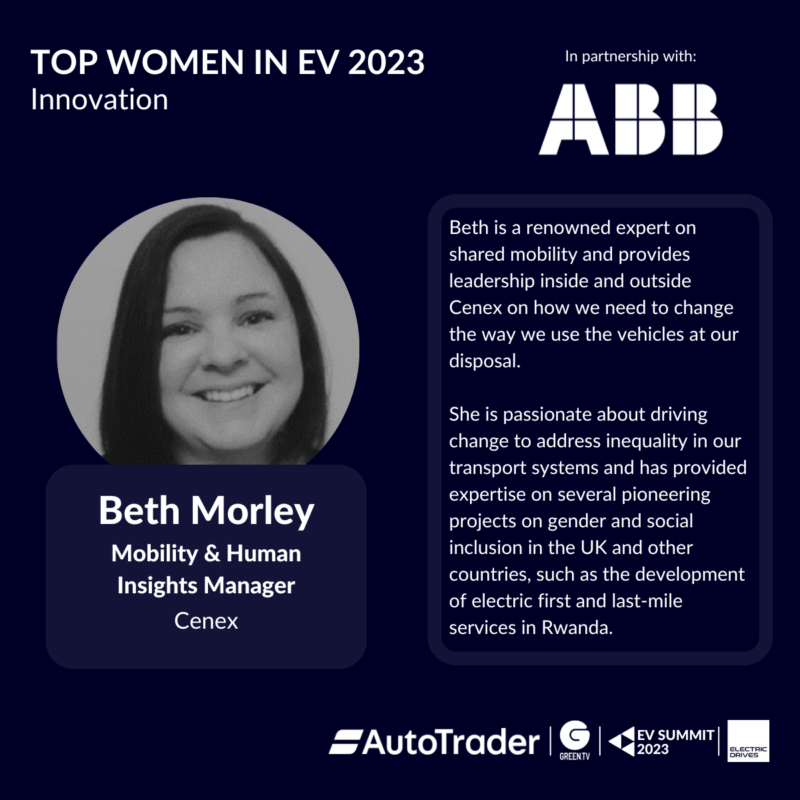 Beth Morley one of EV Summit's Top Women
Beth Morley, Mobility and Human Insight Manager at Cenex, has been recognised as one of the "Top Women In EV 2023" by EV Summit.
Announced on International Women's Day, Beth is a finalist in the Innovation category for her expertise on shared mobility.
Read her nomination below:
Beth is a recognised expert on shared mobility.
She provides leadership inside and outside Cenex on how we need to change the way we power our vehicles and rethink the types of vehicles we use, the journeys we take, and how we use vehicles.
Beth is passionate about driving change to address inequality in our transport systems and has provided expertise on several pioneering projects on gender and social inclusion in the UK and other countries, such as the development of electric first and last mile services in Rwanda.
Beth is playing a key role in helping the Department for Transport develop and implement Micromobility legislation.
She has applied her business experience and passion for sustainable mobility to co-author a vision and roadmap for micromobility which will influence how services are deployed, used, and regulated.
Her work will ensure that emerging mobility modes are deployed safely and benefit all parts of society.
Leading on Human insights at Cenex, Beth is a champion for including user needs in the decarbonisation of transport.
She supports staff across the organisation and in the wider industry to not only listen to consumers but also how to implement this information into our planning.
This included a first-of-a-kind project using in-depth engagement and co-design activities with communities in North Yorkshire to design local shared e-transport schemes.
Congratulations Beth 🎉 a real champion for including user needs in the decarbonisation of transport https://t.co/RIvOBa4ydR

— Cenex LCFC (@CenexLCFC) March 8, 2023