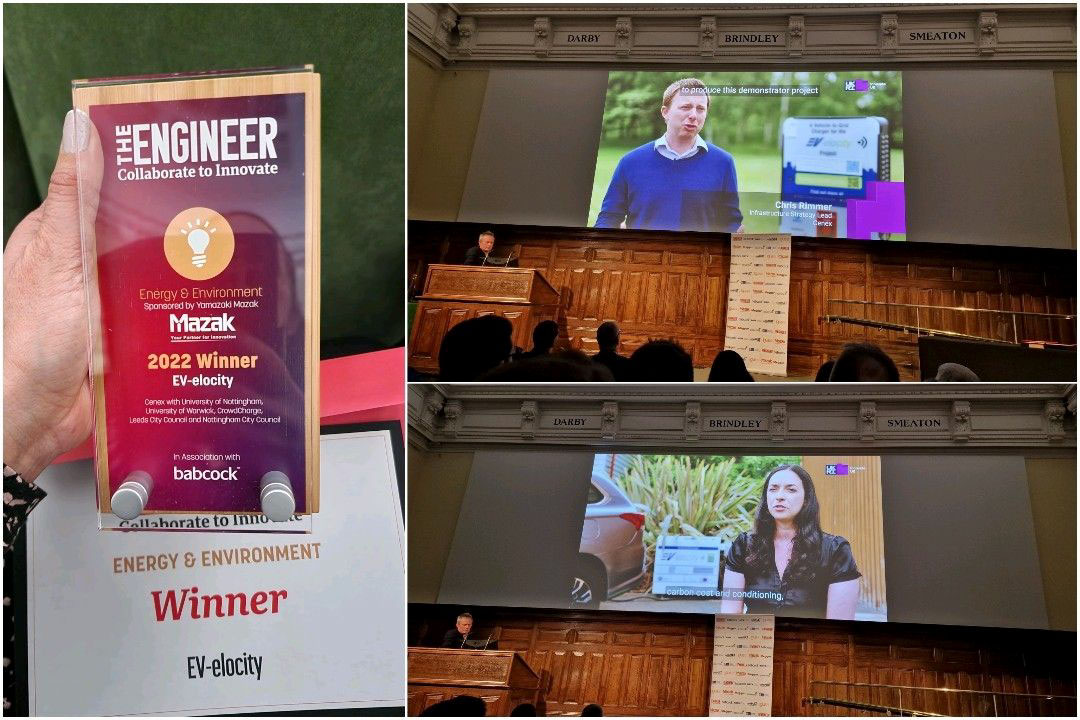 Categories:
News
/
Announcement
V2G project wins Collaborate to Innovate award
Cenex-led EV-elocity project won the Energy to Environment prize last week at The Engineer's Collaborate to Innovate awards.
Lucelia Rodrigues from University of Nottingham picked up the award in London on behalf of the consortium also involving CrowdCharge, Leeds City Council, Nottingham City Council and University of Warwick.
The Energy to Environment award focuses on making more efficient use of resources and protecting the environment.
Chris Rimmer, project lead, said: "Collaboration across different disciplines and industries is key to this innovation, which is essential to maximise carbon reduction impact of electric vehicles.
"It's an honour that the hard work of the EV-elocity consortium has been recognised for such a prestigious award."
EV-elocity deployed 15 chargepoints across nine sites – including West Midlands Police, Leeds City Council and the University of Nottingham Creative Energy Homes campus.
Results show that, by careful charging and discharging, EV battery degradation can reduce by one-eighth, and, in some situations, up to 450 kg of emitted carbon dioxide or £400 could be saved per vehicle each year.
Read more: Carbon, cost and battery conditioning benefits calculated for vehicle-to-grid chargepoints
Read more: An Introduction to Vehicle-to-Grid Charging for Electric Vehicles
Congratulations 🎉🎉 to @EV_elocity and its partners for winning the @TheEngineerUK Collaborate to Innovate award for Energy & Environment #C2I2022

And to @luceliataranto for the nomination and collecting the award on behalf of the consortium 👏 pic.twitter.com/A9kkGjnKq1

— Cenex LCFC (@CenexLCFC) February 28, 2023