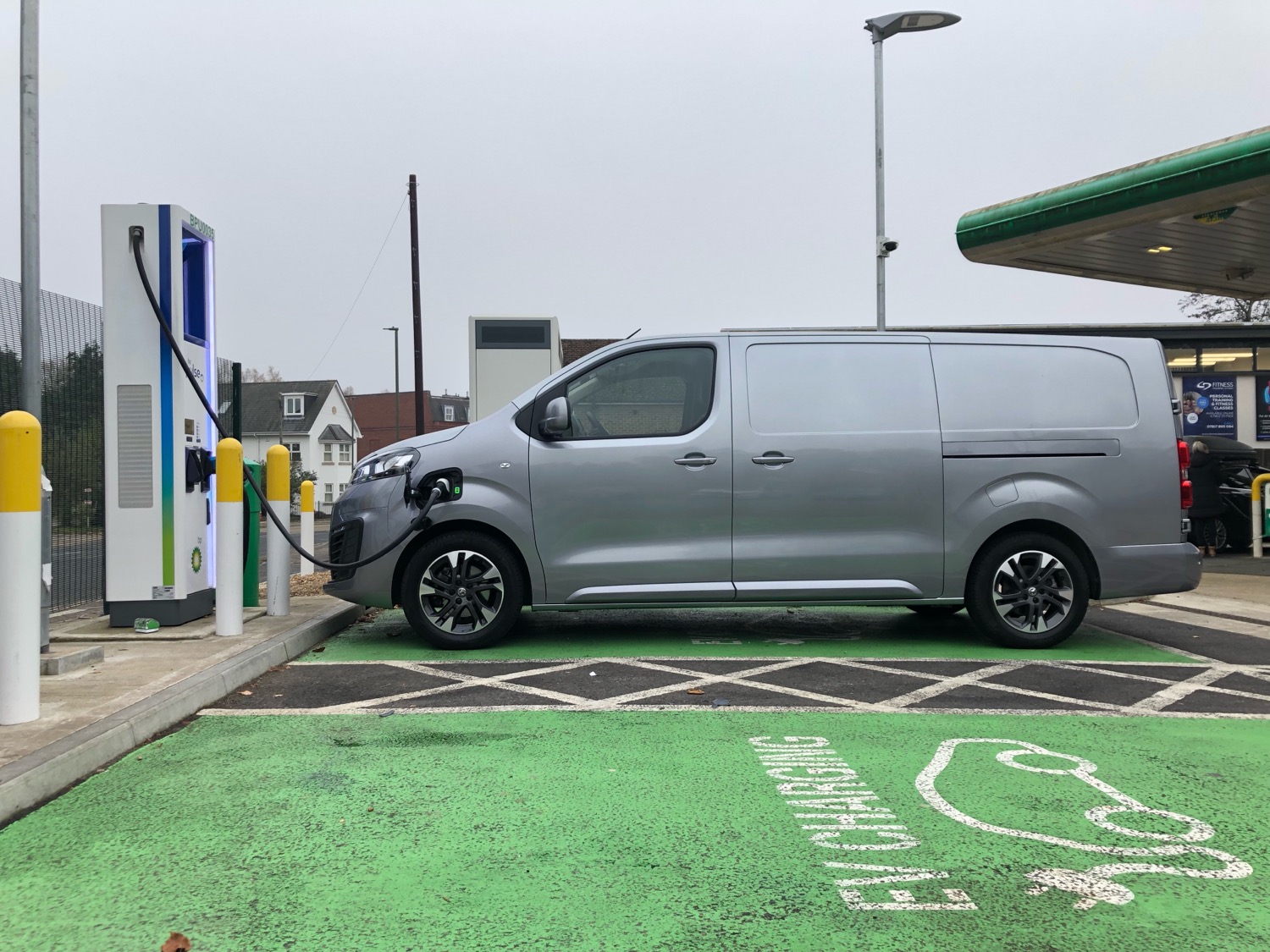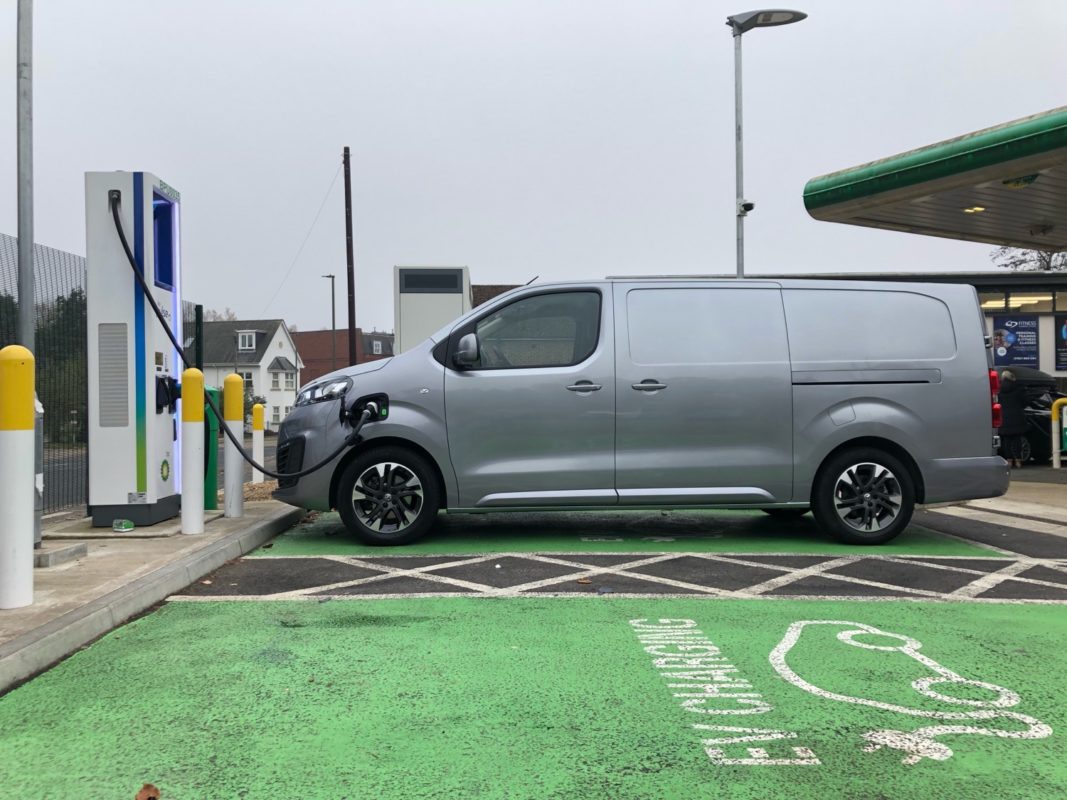 Start with your cycles for a smooth EV transition
Knowing your fleet's daily duty cycles is the first step to installing the right chargepoint infrastructure for electric vehicles, writes Benedict Harrison, Sustainable Energy and Transport Consultant at Cenex, for GreenFleet.
An electric fleet brings the benefits of immediate carbon reduction, improved local air quality and running cost savings for years to come.
The initial capital costs for new vehicles and chargepoints can be expensive though, but making the right decisions early on will pay off down the road.
Chargepoint infrastructure is a long-term investment and there are several factors to consider when making your decisions.

Duty cycles
Your fleet's daily duty cycles will inform your decisions on both what vehicles will be the best fit for your operations and what charging infrastructure those vehicles will need.
These will tell you how much energy will be needed, and when and for what length of time the vehicles will be available to charge.
Details from a duty cycle to look at can include, but are not limited to, the mileage, the routes (whether it is city or motorway driving), and where and when they are parked.
This will provide some of the specifications that will help you chose the most suitable electric vehicle, and the number and type of chargepoints required at the workplace.
Learn more: An Introduction to Plug-in EV Charging Infrastructure 
If a van has a 70 kilowatt-hour battery and 10 hours to charge, say overnight, then you could get away with charging on a 7 kw standard charger; whereas a van required for back-to-back shifts might need a rapid charger to top it up as quickly as possible between shifts.
It is important to select the right type of chargepoint for the right use as this will keep costs down and utilisation up.
Installing lots of high-powered chargers can lead to expensive grid connection or upgrade costs, although, sometimes this is necessary.

Site capacity
Any site has a limited electricity capacity and adding chargepoints could take you up to or over that capacity.
Your energy supplier will be able to inform you of your site's capacity, and a comparison with your meter readings can inform you how much, if any, spare capacity you have.
Where possible vehicles should be charged as slowly as possible and for as long as possible to reduce any spikes in power demand.
Heavier vehicles, such as refuse-collection vehicles or lorries, will have much larger batteries and will need more energy to run, therefore it is likely that you will need lots of fast or rapid chargers to ensure this fleet remains operational.
However, it is likely in either case that you will require a new grid connection or an upgrade to power the chargepoints.
At this stage you should be contacting your Distribution Network Operator (DNO) to discuss your options and costs with them.
Your current connection may be large enough and there may be enough spare capacity in the network that you can simply pay for more capacity, or they will be able to tell you if you need an upgrade.
If you need an upgrade this will potentially involve anything from new cables to a new substation which can add significant costs and should be avoided where possible.
There are alternatives to consider before going for a DNO upgrade, such as load management.
This system looks at how much available capacity you have and divides that equally across your chargepoints to ensure that vehicles charge as quickly as possible, without breaching your available capacity.
There are different levels of load management, and the most advanced dynamic systems are able to look at how much power your site is using as it varies throughout the day, and then split any available capacity across your chargepoints.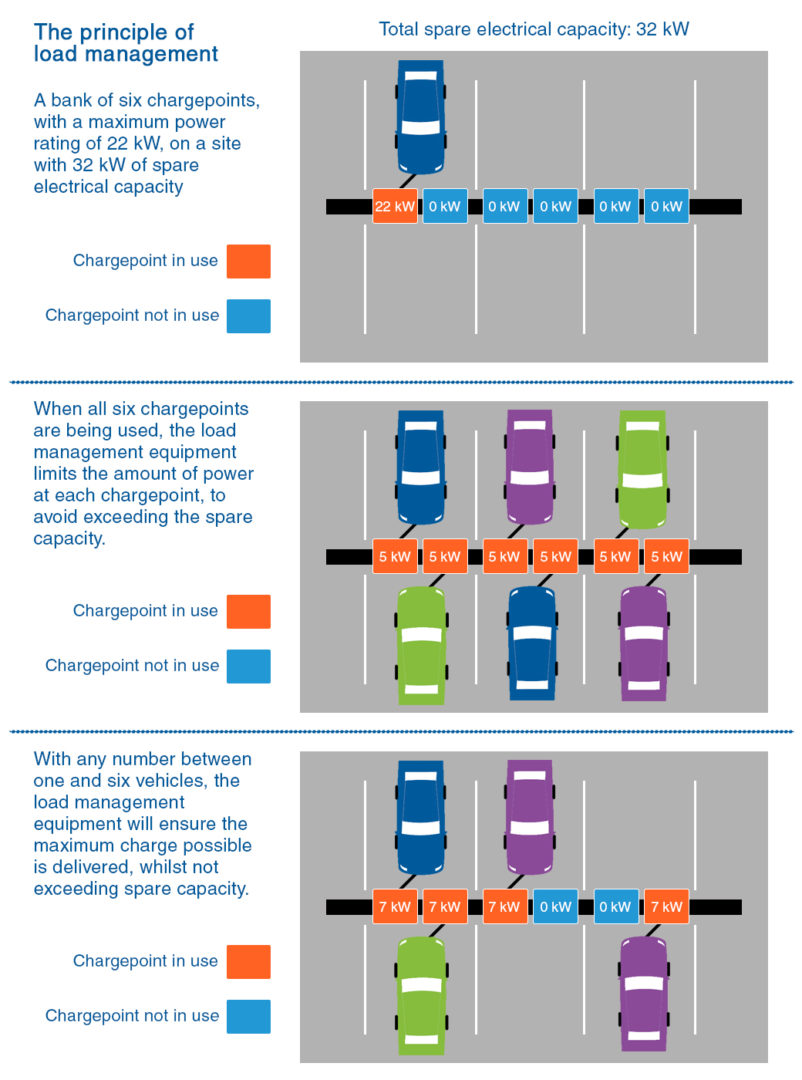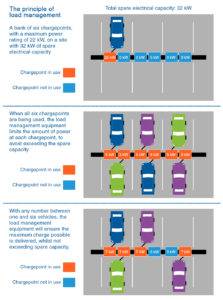 Click the image to enlarge
Off-site charging
Another solution to avoiding a site upgrade is to utilise the public charging network or home charging schemes.
This could be particularly useful if fleet vehicles go home with staff or if vehicles are far away from the depot.
Using public or home chargers could save you the costs of installing chargepoints, and software and hardware is coming to market that allows you to manage expenses from this.
Another alternative to charging vehicles off-site is joining forces with other organisations to create a shared charging hub and dividing the costs and access equally between partners.
Off-site charging is often more expensive for the electricity, as inevitably the energy supplier is looking to make a profit.
It can also be harder to manage chargepoint use and ensure that chargepoints are available for charging, however it comes with lower upfront costs and no need to deal with maintenance.

EV champions
The transition to an electric fleet is a team effort for any organisation.
Drivers, fleet managers, site managers and finance teams should all be consulted on duty cycles, energy requirements and resource capacity.
It is also important everyone is on board with the switch to electric, by informing staff of the motivations, benefits and the necessary behaviour changes that come with recharging a battery over refuelling a tank.
EV champions – staff members who are passionate about an electric fleet – can be beneficial to a successful transition.
Colleagues can teach each other rather than be told what to do and this can encourage acceptance of the new technology.
Staff should be trained in how to drive the electric vehicles and how to use the chargepoints, as new habits will need to be formed to maintain a smooth operation.

Install in phases
Cenex recently conducted a fleet and infrastructure analysis for an organisation to assess suitable electric vehicle replacements and necessary depot chargepoints, and made recommendations based on the financial, logistical and energy implications.
As well as the site's capacity for charging and parking, the vehicle duty cycles informed decisions on the number and type of chargepoints to install.
For this organisation, home charging and public charging options were found to be suitable in some circumstances to meet operational requirements.
The information gathered established a least-cost, highest-impact approach to electrification of the fleet which can be implemented over a series of phases, prioritising lighter vehicles.

Plan ahead
In the switch to an electric fleet, there is no chicken and egg situation of which should come first, the vehicles and the chargepoints should be considered simultaneously which is why it takes a concerted effort from across the whole organisation.
It is important to develop a whole fleet strategy early on to ensure there are no unexpected costs and that the vehicles and chargepoints are all compatible.
There can be long wait times on delivering electric vehicles, especially in current circumstances, and you do not want vehicles sitting around unused while waiting for chargepoints to be installed.
Speaking to the right people will give you the confidence to make informed decisions that are best for the business operation, employees, and the environment.
Get in touch to discuss your chargepoint infrastructure strategy.